The Management Board of the Institution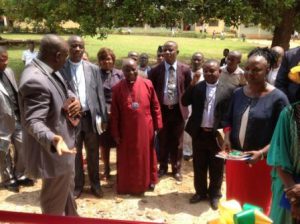 Hugh Goldie Lay/Theological Training Institution, Arochukwu, (HGLTTIA) is the foremost theological training institution of the Church of Scotland Mission (CSM), now the Presbyterian Church of Nigeria (PCN), and is ranked among the oldest in Nigeria. With a humble beginning at Creek Town Calabar, the school was moved to Arochukwu in 1918 where it has grown to an enviable institution that trains noteworthy ministers, evangelists and other categories of Christians for both the Church and society.
In 1948, following a new spirit of co-operation among the three Evangelical Mission bodies operating in West Africa, namely Church Missionary Society (CMS – Anglicans), the Methodists and the Church of Scotland Mission (CSM – Presbyterians), the revolutionary idea of women education emanated. This resulted in the founding of a joint Women Training College (WTC), located here in Goldie. This WTC was later relocated to Umuahia where it has remained till date, having metamorphosed to Federal Government Girls College, Umuahia.