About Hugh Goldie
Hugh Goldie Lay/Theological Training Institution, Arochukwu, (HGLTTIA) is the foremost theological training institution of the Church of Scotland Mission (CSM)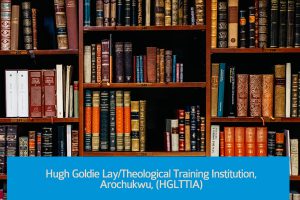 Hugh Goldie Lay/Theological Training Institution, Arochukwu, (HGLTTIA) is the foremost theological training institution of the Church of Scotland Mission (CSM), now the Presbyterian Church of Nigeria (PCN), and is ranked among the oldest in Nigeria. With a humble beginning at Creek Town Calabar, the school was moved to Arochukwu in 1918 where it has grown to an enviable institution that trains noteworthy ministers, evangelists and other categories of Christians for both the Church and society.
Our quintessential African blooded, African culture/identity-loving and African home-coming-desiring American Servant of God, and your entourage; we once again welcome and thank you for braving the threatening challenges of our roads to this citadel of godly learning and relevance.
Rev Olo Ndukwe PhD

-The Rector-
What they say about the Institution
Hugh Goldie Theological Training Institute have had a great impact on people, the community and the nation at large
HGLTTIA gives you the opportunity to learn from home using your devices. HGLTTIA offer Certificate in Ministry, Certificate in Theology, Diploma in Theology, Bachelor of Divinity, Bachelor of Arts, Post Graduate Diploma in Theology and Master of Theology.
Institution with a difference in virtual learning.
Albert Ikechukwu Chima (Developer and IT Officer of Hugh Goldie, Abia State)
HGLTTIA is a place to be, for a sound biblical studies. The Institution is truly world-class with very well qualified lecturers. The Learning environment is very conducive for students which helps bring out the best in them.
An Institution with High standards
Orogwu Emmanuel ( Clergy at The Presbyterian Church of Nigeria )
Latest News from the Institution
Read our latest news and events happening in and around the institution.
There is no doubt that the students have missed out in the academic calendar which was scheduled to last till...
Hugh Goldie Lay/Theological Training Institution were represented at the Network For African Congregational Theology held at Kwara State, Nigeria.
HGLTTIA is, thus, very much concerned and committed to practical involvement in Public Theology and Community Development as indispensable aspects...